Who doesn't love a delicious, hot bowl of soup on a cold, Winter day? Soup is the only comfort food I can think of that manages to be comforting, delicious, and nutritious all at the same time. Unless of course it's not delicious or nutritious! We've all experienced the disappointment of a watery, flavorless bowl of soup. When soup is bad, it can be really bad but when it's good it's amazing! And the difference lies in just a few flavor boosting techniques that work for any recipe. Delightfully, the techniques for creating deep, delicious flavor in your next batch of soup are also the best ways to pump up the nutrient content.
This January, as we all vow to eat healthier, stay warm, and ward off sickness, it is the perfect time to master the art of flavorful soup making.
And what better place to start than with a recipe that supercharges the nutrients and flavor of the much loved classic – chicken soup! Chicken soup lends itself to delicious and inventive re-creations. For this recipe, browning chicken thighs, on the bone, with the skin on creates wonderful rich chicken flavor that gets balanced out with a veggie rainbow of nutritional superstars including kale, butternut squash, white beans, and tomatoes! And don't worry, my kids who don't like kale love this soup – the secret is in combining complementary flavors that balance one another out to create an end product that transcends the sum of its parts. This recipe balances out the slight bitterness and minerally flavor of kale with sweet butternut squash. Creamy white beans add heartiness and texture and the rich, savory chicken base is cut and brightened by a hit of acidic tomato juice resulting in a cohesive, balanced medley of flavors. And the truly great part about soup in general is that none of the nutrients from all these wonderful ingredients are drained away in cooking liquid – every good thing you drop into your soup pot stays in the broth! With over 100% of the daily recommendation for just about every vitamin and mineral your body needs, this hearty soup is incredibly nourishing, satisfying and delicious all at the same time.
The primary key to great flavor in every spoonful (for this soup and any other) is in achieving "drink-it-by-itself" worthy broth. And the four no-fail techniques that create liquid gold in your soup pot are: 1. browning the meat before boiling it, 2. Using meat on the bone when possible (and in the case of chicken, leaving the skin on,) 3. Using high quality stock, and 4. Including a variety of complementary veggies and herbs.
No matter what recipe you use, these techniques will take your next batch of soup from just OK to outstanding!
1. Browning the Meat
Browning meat not only makes the meat itself more tender and flavorful by sealing in moisture but also adds a deep, caramelized element to the broth that really takes it to the next level. If you are going to use only one of the techniques suggested here, browning the meat should be it.
2. Cooking Meat on the Bone
Cooking the meat on the bone takes a little extra time and a bit of extra effort (when it comes to removing the meat from the bones after it's cooked) but the end result is wonderfully tender, juicy, and flavorful morsels of meat. The bones themselves also impart extra flavor to the broth as well as adding tremendous nutritional value to your soup, with minerals such as calcium and magnesium, essential amino acids, and gut healing gelatin.
3. High Quality Stock
Homemade stock is delicious, simple to make and economical in that it utilizes what would otherwise be thrown away – bones from another meal. I try and make stock anytime I roast a chicken or have leftover steak bones. The process is very simple: Place any leftover bones or a whole chicken carcass (with the meat picked off) in a large pot and add 3 or 4 each of onions, carrots, and celery, and fill the pot with enough water to cover all ingredients by 3 or 4 inches. Bring to a boil and then turn down heat to low. Simmer for 8 to 12 hours. Strain out solids and let the stock cool in the pot for a couple hours before pouring into ziplock freezer bags to freeze. Freezing in ziplock bags is more convenient than plastic containers as no thawing is necessary to get the stock out of the container – just snip away freezer bag and place block of frozen stock into pot to thaw. Tip: Don't push yourself to make stock from the bones of a big meal you've prepared that same night. Put all the leftovers in the fridge for the night and tackle picking the meat off the bones and making the stock the next day when you're fresh – I've found taking this approach means I'm much more likely to actually make the stock! That said, if you have no interest in making your own stock Better Than Bouillon soup bases make delicious, almost homemade tasting soup stock. I use Better Than Bouillon's bases all the time when I don't have homemade stock on hand and consider it a great substitute for homemade stock.
4. The Right Mix of Veggies and Herbs
Vegetables with their many different flavors and textures provide endless mixing and matching possibilities. The key is in considering how all the flavors play together to create a wonderful new whole. Consider which textures and flavor profiles complement one another and which ones contrast. Bitter kale with sweet butternut squash, savory caramelized onions with sweet peas and corn, rich and salty sausage with acidic tomatoes and sweet peppers, chewy barley with juicy mushrooms, and so on. Veggies are a great source of interest, contrast and nutrition for any recipe.
Similarly, I love using fresh herbs to balance out and brighten all different flavor combinations. The right amount of the right herb added at the right time during the cooking process can take a meal from good to great! Some of my favorites that I use frequently are thyme, sage, rosemary, parsley, cilantro, and basil. As a general rule of thumb, herbs that have tough, or prickly leaves and woody stems (thyme, sage, or rosemary) should be used to add flavor depth and are great for longer cooking methods such as roasting, braising, and soup making. These herbs should be added early on in the cooking process to steep in the cooking juices (although I don't recommend cooking herbs any longer than an hour as the flavors can start to turn bitter and/or overpowering.) Delicate, leafy green herbs (parsley, cilantro, and basil) are great for brightening the flavor of a dish and should always be added at the very last minute to preserve their fresh flavor. While these herbs are heavily used in quick cooking dishes such as sautes and stir fries they are also great for adding just the right amount of freshness to soups or even roasted meats, when sprinkled on just before serving.
Try out these techniques with the super delicious and nutritious recipe below and you will never settle for a sub par bowl of soup again. Enjoy!
Superfood Chicken Soup
You'll feel virtuous for keeping your new years resolution to eat more superfood veggies but you'll actually make this recipe again and again because it tastes so good!
Ingredients
13

cups

High Quality Chicken Stock

about 3 liters

2

tbsp

Olive Oil

4-5

Chicken Thighs

skin on

3

Med Red Onions

sliced into 1/2 inch circles

2

tbsp

Sherry or Marsala Wine

optional

2

cups

Chopped Carrots

3/4 inch pieces

2

cups

Chopped Celery

3/4 inch pieces

3

cups

Peeled & Cubed Butternut Squash

1 inch cubes

1

can

Chopped Tomatoes

28 oz can

2

cans

Great White Northern White Beans

2 – 15.5 oz cans

3

packed cups

Kale

tough stems removed

Optional:

Fresh grated Romano or Parmesan cheese for serving
Instructions
Begin heating chicken stock in an 8 quart pot or larger over medium heat.

Heat olive oil in a large pan (if available, a cast iron skillet is ideal) until the oil just starts to smoke and an onion dropped into the oil immediately starts to sizzle.

Add onions and chicken thighs, skin side down with kitchen tongs (2 forks can be substituted for tongs if necessary.) This may have to be done in batches depending on the size of your pan or skillet.

Salt and pepper chicken generously in pan and cook for about 4 minutes or until the skin has turned a deep golden brown. Flip chicken over and cook 4 minutes on the other side, scraping up browned bits and moving onions around so that they don't get burned.

Place chicken and onions into pot with chicken stock, making sure to scrape up and add all the delicious browned bits and oil from the pan. Optional step: After adding chicken and onions to the pot of stock, pour 2 tbsps of Sherry or Marsala wine into the pan over medium heat. The alcohol will loosen any stuck on bits of chicken and onion but will evaporate quickly so it is important to immediately scrap up what comes loose and add everything in the pan to the pot.

Bring stock to a boil before turning down heat to medium low. The chicken will need to cook covered for a total of 50 minutes but other ingredients will be added at different stages during the total cooking time.

*Note: You will need to start adding other ingredients after chicken has cooked for 30 minutes so use this time to wash, peel, and chop vegetables.

Wash and chop carrots and celery into 3/4 pieces and set aside. Peel, scoop seeds out and chop butternut squash into 1 inch pieces. For tips on processing a butternut squash see below

*Note: To safely peel a butternut squash cut off both ends and slice the squash in half horizontally before attempting to peel. Stand on flat end and peel with a sharp pairing knife as shown in the photo.

When chicken has been in the pot cooking for 30 minutes add chopped carrots and celery and can of chopped tomato with juice.

Cook carrots and celery for 10 minutes before adding butternut squash.

Cook all veggies for another 10 minutes and then pull out chicken pieces and set aside to cool enough to handle.

Drain and rinse white beans and de-stem kale before adding to pot. Cook for 5 minutes stirring occasionally and then remove pot from heat.

Chicken should be cool enough to handle at this point. Remove and discard skin. Remove meat from bone, tear into bite size pieces, and add back to pot.

Optional: Set out fresh grated Romano or Parmesan cheese to sprinkle over each serving.
Notes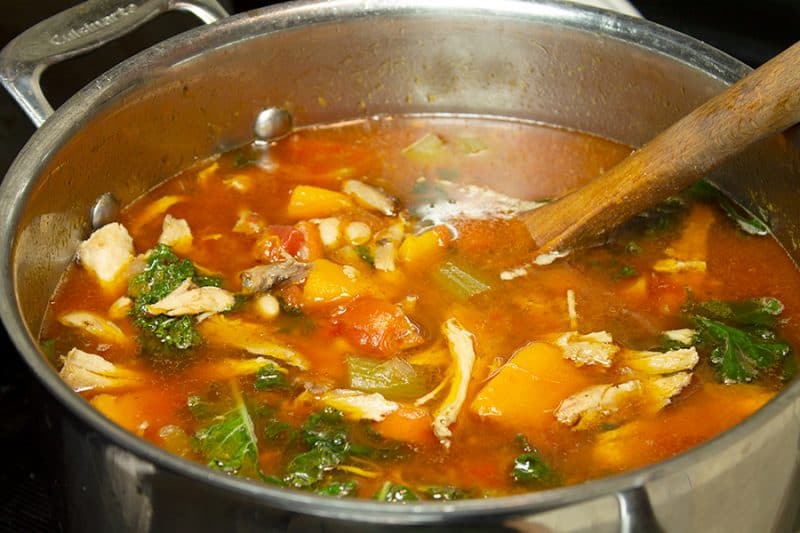 This is a recipe that will make enough soup for about 2 and a half meals for a family of 4. You will end up with a nice size pot of soup – a standard 8 quart pot (your large pot, not your huge stock pot) will be filled about 2 inches from the rim. I like making more than enough soup for one meal because soup actually gets better a day or two after it's made when the flavors have had time to really meld. I usually make something different the following night to break things up and then serve the leftover soup for dinner on the second day after making it. How great is that? Leftovers that are better than the day you made them with no extra work required!
A delicious vegetarian version of this soup can be made by substituting the chicken with sauteed mushrooms and barley and adding a parmesan cheese rind to the broth for flavor depth.  I will post that recipe at some point as well. Hope you enjoy!