Just a mini blog post to share recipe links and photos of this year's cookie batch! My recipe line-up included Millionaire Shortbread Bars, Raspberry Sugar Cookies, and White & Dark Chocolate Peppermint Bark. I like to make 3 different types of cookies (or candies) and my strategy for making it doable (in the midst of life's craziness) is to include 1 elaborate recipe, 1 medium complexity recipe, and 1 simple recipe. And of course I like to make sure that each one hits a different flavor category to sufficiently mix things up!
This year I was determined to plan ahead and actually give myself enough time to make everything I wanted to make – and by the time I went to bed on Wednesday evening I felt like I was in very good shape (for once in my life!) The raspberry cookie dough was made, rolled out, and in the fridge, the shortbread was baked with the caramel layer spread on top, missing only the final layer of chocolate and I felt confident that I would be able to finish and package everything to send out before 5:00 pm the next day. And then, on Thursday morning we woke up to 3 feet of snow!! I love a big snowfall but this was a REALLY big snowfall, that of course required a LOT of shoveling – the better part of the day in fact. Oh well… best laid plans. Getting to the post office by 5:00 pm on Friday, ended up being my new goal and the thought of decorating each raspberry cookie with a snowflake design went out the window! Instead I used leftover, ground up, freeze dried raspberries to create red icing to alternate with the white icing in an easy, free hand drip and stripe pattern. While not my vision of intricate snowflake cookies, the improvised raspberry icing actually ended up being very tasty so it all worked out in the end.
So, without further ado, here are the links to the recipes I used and any notes or changes I made in the process. Enjoy!
Millionaire Shortbread Bars
I've made these bars quite a few times before and they are always a knockout hit! However, I hadn't quite settled on a version of the recipe that I was completely satisfied with. This version of the recipe is definitely the one! Credit goes to Kimberly Killebrew at the Daring Gourmet blog. Her recipe is titled Authentic Millionaire's Shortbread (Caramel Shortcake) and she provides just the right instructions to ensure that the bars come out perfect every time. While these bars aren't over-the-top complicated, getting the caramel consistency just right, takes some attention to detail. Kimberly outlines the exact steps to take (stirring constantly is a must!) and gives good visual cues as guidance. A candy thermometer is ideal but you can get away without one if you follow her instructions to the T. Her tip on pulsing regular sugar in the food processor to create castor sugar (a finer sugar) is also really helpful and it did seem to result in a more tender shortbread bar.
The only thing I changed was adding a few swirls of white chocolate to the top layer of dark chocolate, mainly for the aesthetic appeal. The white chocolate does add a little bit more sweetness, so if you prefer things less sweet, skip this embellishment or limit it to just a little drizzle. I was going for a marbleized look that I've done in the past but actually botched it a bit this year! I tried to do all three pans at once, which didn't work because by the time I got to adding the white chocolate, the dark chocolate had hardened too much to create the swirl effect I was looking for. In order to do this successfully, it's necessary to pour both the white and dark chocolate on at the same time and then use a toothpick to add marbleized swirl patterns. Next time!
Raspberry Sugar Cookies
I was excited to try this recipe because I love the idea of using freeze dried real fruit as a flavoring! I made a (very complicated) tri-colored mini cake last year that used matcha green tea and ground up, freeze dried raspberries for flavor and color and every since I've been obsessed! I always like to include a non-chocolate cookie option in the bunch but even though I like sugar cookies, plain ones didn't seem quite festive enough so I searched the internet to see if adding freeze dried raspberries might be an option and I came up with this recipe! This Raspberry Valentine Sugar Cookies recipe was created by Ramona of the Merchant Baker blog and she is, by all appearances, just as obsessed with using freeze dried fruit as I am!
In Ramona's original recipe she dipped her cookies in white and dark chocolate for Valentine's day (which sounds good too) but I thought I would make these Christmasy by piping out snowflake designs with icing. As explained above, this went out the window when we got dumped on with 3 feet of snow but I'm actually glad that I was forced to improvise and come up with the raspberry icing idea as it added a bit more raspberry flavor. I actually enjoyed these cookies with no icing at all because I don't like my desserts too sweet but added icing definitely pumps up the flavor and certainly makes them look a little more festive!
Two recipe notes: firstly, I think I would try adding more raspberry powder next time – in fact I think Ramona may actually have added more than what is listed in the recipe, as the cookies shown in her photos are a more vivid color than the ones I ended up with. The raspberry flavor is very nice but almost a bit too subtle if you are a raspberry lover! I will have to experiment with the amount to figure out what provides the perfect balance of flavor and texture. Second note is on the baking time – I found that it is hard to tell when the cookies are done because of the color of the dough. With ordinary sugar cookies, they are perfectly done just when the edges start to turn golden brown. I ended up baking these a tiny bit too long because it didn't look to me like the edges were beginning to brown, although it turns out they were – the raspberry color was just acting as camouflage! So, when in doubt, take them out earlier than you think you should.
White & Dark Peppermint Chocolate Bark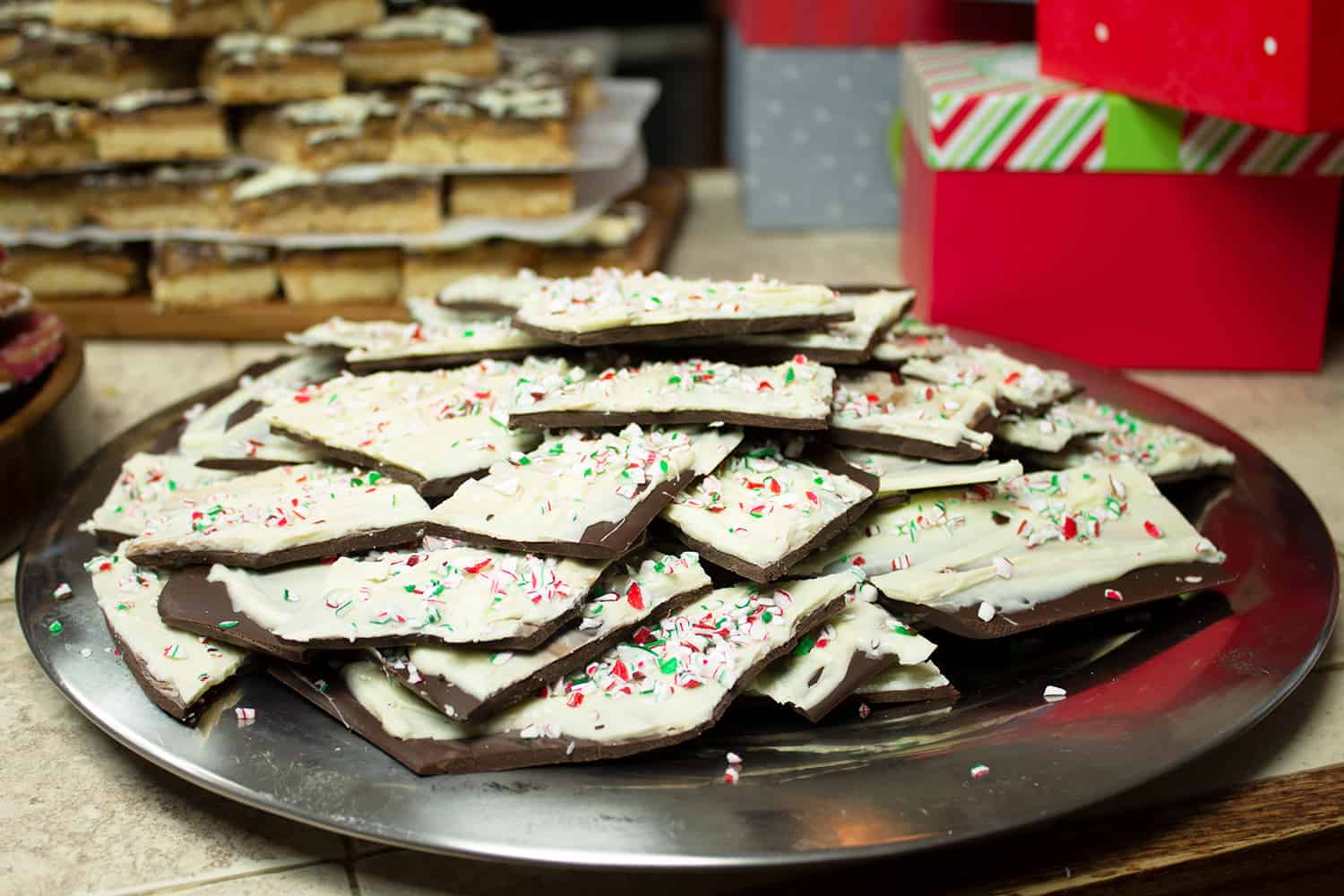 This was my simple recipe and it is a winner! There are a lot of chocolate peppermint bark recipes out there but I chose this one because, Mardi Michels, of the blog Eat. Live. Travel. Write includes a few key tips that ensure success. The bark is made with only a few ingredients and is very simple to assemble but there are a few potential pitfalls if you're not used to working with chocolate. In Mardi's Peppermint Bark recipe she gives very specific instructions – such as taking the chocolate off of the heat when it is about two thirds of the way melted and continuing to stir it just till it is smooth, in order to reach the perfect spreadable consistency.
The only thing I would change is when to add the crushed peppermint. I found that the peppermint doesn't stick that well when you sprinkle it on after spreading out the white chocolate so next time I will mix it quickly into the white chocolate right before spreading it onto the dark chocolate layer, to ensure that it stays put. I might sprinkle a little on top as well to keep it looking pretty!
Conclusion
Hope you enjoyed the mini tour of this year's cookie making adventure! Christmas, here we come! Hope yours is blessed with lots of love and quality time with family. Until next time… 😘