Today marks exactly 2 weeks until Christmas day and If you're anything like me, you woke up this morning with the realization that you really, truly need to get serious about finishing off your Christmas shopping! Aka, check off those 3 or 4 people who always end up being the last names on your list – your aunt with the particular taste that already has everything, the teenager who has a new obsession every other month, and your dad who is the least materialistic person you know. These are the tough cases and if you notice, they all have something in common – finding these loved ones a "thing" that they want or need may actually be impossible, or at least very, very difficult.
In my last post I shared my fun 3 step "detective" method for consistently coming up with great gift ideas but if you're stuck on the idea that you have to buy everyone a physical thing, you may still miss the mark with these tough cases! For these loved ones it is necessary to literally think outside the gift box and consider creative alternatives to traditional "things." It may be tempting in these cases, to just go with the "it's the thought that counts" philosophy and buy some little trinket to check off the gift giving box, but this isn't a great solutions for a number of reasons. However well intentioned, this type of "gift" ends up being a burden on the giftee because it is neither something they want nor something they need but they will inevitably feel guilty about getting rid of it. And of course none of us want to be the reason another unused thing ends up in a landfill somewhere, either!
However, the good new is, the solution is actually very simple! It is possible to find (or create) a gift that will properly convey your love for the person who wants for nothing, as well as truly delight them! The key is in getting rid of the notion that a gift needs to be a physical thing at all. In fact, my rule in these cases is to rule out anything that will take up permanent residence in their home. This is where it really gets fun and creative!
Consumables, Subscriptions, and Services
I find that Intangible or impermanent (but meaningful!) gifts fall into 3 main categories: Consumables, such as homemade baked goods, specialty fine foods, or alcoholic beverages; Subscriptions, such as a curated book service, cheese tasting club, and so many other cool monthly delivery options!; and Services, such as things you can do for or with the other person – for an older relative this could be teaching them the basics of Facebook so they can reconnect with old friends, or for a teenager it could mean taking them on a day trip to someplace they would love to see (even if it's just the big mall in the next town over.) This is where you can get really creative and personal! I'll give you examples and ideas for how these categories can be applied to each tough case mentioned above:
Tough Case #1 – The aunt that already has it all
Most of us have at least one of these relatives – often they are older with a carefully curated house full of things that we couldn't afford even if we knew where to buy them. For this reason, they may be the most intimidating person to buy gifts for! In fact, they may have come right out and told you that they don't want anything! But often this is the same person who is most generous with you and/or your kids so it feels wrong not to do something for them. And the key in this case may be exactly that – doing something rather than buying something. While finding a really cool subscription for this person may be a possibility if you know their tastes well enough but this could still be a risky proposition, as they are the most likely person out of the tough cases to truly have everything they need. In other words, if they wanted a cheese tasting subscription they would have it already. So what does this person love and value? You! And your kids if you have them.
This person is a prime candidate for homemade consumables or a gift of service from you or your children, that allows you to help them with something or just spend meaningful together! And don't overthink it too much! For long distance relatives a tin of homemade cookies with a heartfelt note is simple but wonderful. For closer relatives you can get a bit more creative, such as teaching them how to use their new Kindle or even a trip you and they can take together to a museum they love! Once you start thinking along these lines, the options are limitless!
The only time to break the "nothing that will take up space in their house" rule is with photos of your children. But even with this, make sure that (if you can afford it) you offer the photos in nice frames that can easily match their home decor. If they have a small house and you have several children or there are many grandchildren/nieces/nephews with photos vying for space, consider a group photo of your children rather than 3 separately framed photos. Or get creative with photo gifts!! A pretty Christmas ornament featuring your child's photo is a great and useful alternative to a traditional framed photo. Fridge magnets of your kids photos are also a nice and useful bonus to add to a Christmas package. Unless they have a sleek stainless steel fridge devoid of magnets… in that case, skip the fridge magnet idea!
Tough Case #2 – Any Teenager
First, let me be clear, simply handing a teenager a card with cash in it is definitely better than buying them the wrong gift. So if, in doubt, go this route without a shred of guilt. Don't let your pride (as the best gift giver in the West) get in the way on this. However, if you're like me and you prefer giving real gifts whenever possible, read on for some creative gift ideas that will delight even the most fickle teen.
Before you do anything else at all, do a thorough check of your teenage giftee's social media profiles to look for clues about what they like and might want. If you're lucky, you might find a mention of exactly what they want! Do not assume or extrapolate too much here though – at this age "the right thing" is only "the right thing" when it is the exact make, model, and color they are after. Even if you don't find a mention of an exact product (which is more likely than not) you may very well gather enough clues about their interests to be able to choose a really neat subscription! The reason why a subscription works well here is that they are often fully customizable by the teenager him or herself. In other words, you don't need to know the exact clothing brands that your niece is into at the moment, you just need to know she's obsessed with clothes, to get her a neat subscription like La Tote (like StitchFix but younger and cooler.) There are also a several graphic t-shirt subscriptions out there that offer specialty t-shirts tailored to the teens interests!
And one general thing to remember during the teenage years, is the fact that kids are universally preoccupied with questions about, and affirmations of, their identities during this time. So you may be able to (carefully!) break the "no specific things" rule if you find something really cool that speaks specifically to that teenager's identity. A set of birthstone earrings for the girl into astrological symbols, or a family crest for the young man, interested in his Norwegian heritage could be cool gifts. This Etsy shop creates really cool custom family crests! And even a fun personality test type game, like the card game Sussed could very well be a hit!
If you and the teen are close, spending time taking them someplace they want to go (especially if they aren't driving yet) is a wonderful gift! This could be something as big as taking them for a day trip to NYC or as (seemingly) small as taking them to the mall. The destination is less important than the fact that you get to spend quality time with the teen in the course of doing something they enjoy!
Tough Case #3 – Your Dad
He has all the tools he needs and he isn't really into "things." You've already gotten him a special "King of BBQ" apron and grilling tongue set so where do you go from here? You're father, like your aunt, probably also told you not to get him anything. But he's your dad! And he's always around to help you out with the things you need so getting him nothing just doesn't feel right! But just like your aunt, while he may appreciate the thought behind it, getting him something he doesn't actually need will simply end up being an imposition on his time (as he inevitably tries to figure out what to do with it.) Unlike your aunt though, he may be a great candidate for all three categories. While your aunt spends time carefully curating her life – and sincerely wants for nothing – your father's lack of interest in material things may mean that there are in fact creature comforts out there, that he would enjoy but would never seek out himself.
Consumables are almost always appreciated by any man in your life, but what about making it really special and personal. For example, find out what his favorite childhood pie or cake recipe was and make that. Extra points for finding grandma or great grandma's original recipe!
A single special meal is amazing but a subscription for a favorite consumable – reminding him of your love and appreciation for him every month – may be even better! If he's not very materialistic, it's unlikely he would ever splurge on something like a subscription, even if it's something he would really enjoy! If he's a microbrew guy, a craft beer subscription is a no-brainer. A subscription service like The Original Craft Beer Club allows him to try new microbrews he might never have discovered by featuring a selection from a different small brewery every month. And don't underestimate all the different creative subscription options available out there right now either! Don't limit yourself – if he's a history lover, a book subscription may be just the thing. A Year in Books is a subscription service that involves speaking to a live bibliographer for a completely personalized and curated experience! Potentially a really special gift for any avid reader. This is a great article listing a slew of really unique subscriptions available for gifting!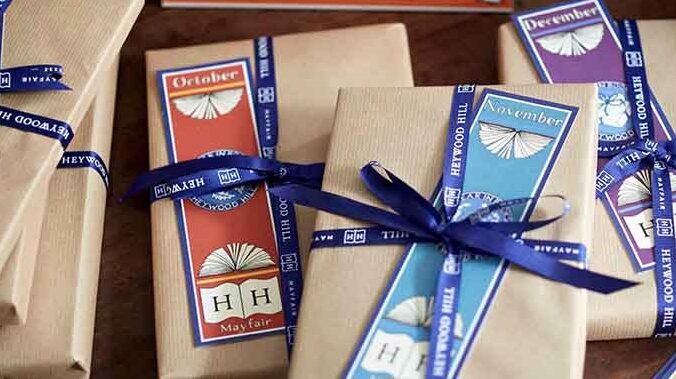 And finally, he loves you and spending time with you, so if there is a service that you can gift him, that would also allow you to spend quality time together, that's a double win. And be creative! You may feel like you have nothing to offer, that he doesn't already know how to do, but it doesn't have to be that narrowly defined. Offer to help him go through and archive old family video together, even if you don't know how to do any of the technical stuff – just your presence as moral support and good company may help him finally get done something he's been putting off. And that is truly a help!
Bonus Tough Case – Hostess Gifts!
Yes a candle or a bottle of wine are good standbys (for the record, I'll take the latter over the former 😊) but there are fun ways to be a little more creative and – let's face it – memorable in your hostess gift giving.
A hostess is usually someone who likes to entertain so a gift for the home is often the first thing we think of. But take caution because the fact that your hostess likes to entertain also may means she's got her kitchen and home fully outfitted with the items she needs and doesn't have room for more. My rule of thumb is this – don't ever buy something that will take up permanent residence in her home, unless you know her taste very well and/or know of a specific thing that she wants or needs.
But don't worry there are lots of great entertaining themed gifts that will delight your hostess and make her life easier without taking up cabinet space (homerun!) The key is in the consumables category – specifically consumables that can be ready at a moments notice to serve to guests. Think, shelf stable fine foods that could make an easy appetizer at a moment's notice. Roasted nuts, olives, smoked meats or salmon, are great options. Or go truly upscale with a jarred pate and artisanal crackers combo. Hit up your local specialty food shop or check out an online purveyor of fine foods such Delicario. Or let one of the many creative geniuses at Etsy do the work to pull together a lovely consumable gift set – this Hot Chocolate Gift Box is both beautifully packaged and special because it is unique and handmade. Or use your own creativity to put together a hot chocolate making kit that can be set up and used immediately without much effort on the hostesses part!
And of course a good bottle of wine is a wonderful, easy to serve consumable but what about a ready to pour bottled cocktail for something a little more unusual and exciting? Quite a few craft spirit makers are now offering very high quality bottled cocktails such as the High West Distillery's, Manhattan – Barrel Finished Cocktail. As a hostess myself, I absolutely love this idea!! Something that is delicious, festive, and simple for the hostess to serve, is hostess gift gold!
And finally, looking beyond the kitchen, a cute and versatile, artisan pack of notecards can make a delightful hostess gift! We are definitely biased but we think our Hello Beautiful and You Are Note Worthy notecard Collections fit the bill perfectly!
And of course, if you are being hosted overnight, a lovely thank you note left on the pillow for the host to find, when she is cleaning up the following morning, might very well be the best hostess gift of all!
Conclusion
I hope these tips and ideas spark your creativity and help you find or create inspired gifts that will bring joy to those you love! Now you can finish off your Christmas shopping list for real so you can enjoy the rest of the good stuff the holiday season brings!
Christmas Blessings to all! xoxo